Follow us on on any of our social channels above.
Click here to sign up for email alerts and our weekly newsletter.
Donate Online, Via Venmo, Via PayPal, or Mail a Check.
Prayer at ISOC
Effective February 1, 2021
Please read the entire contents of this page before registering for prayers as some guidelines have been revised.
* New registration required - previous registration will not be accepted.
Rules
Masks required - must fit properly over the mouth and nose.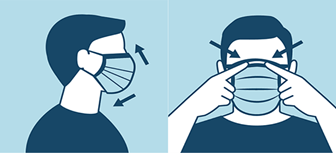 Only N95, KN95, surgical masks or multi-layer cloth masks permitted.

The following are NOT PERMITTED:

Due to the increase in COVID-19 infections, please use extreme caution in coming to the masjid. If you or anyone you have been in contact with is showing any symptoms, please do not register. ISOC is monitoring the latest guidance from state and county officials. If precautions are not taken, or if strict rules and guidance of security and facilities staff are not followed, we may have to close the Masjid again.

Individuals over the age of 10 only. Individuals older than 65 or with underlying health conditions are strongly encouraged to pray at home.

Pre-Registration required online on this page to attend any prayer.

For Daily Prayers, the registration form only needs to be filled once per person, not for every prayer.

Jumu'ah requires a separate registration.

You must re-register every week for Jumu'ah,

even if you previously registered for daily prayers or for last week's Jumu'ah prayer. Since spots are limited, please only register if you plan on attending.

Please DO NOT register on behalf of others. Registration spots will not be switched/swapped.

If your plans change, please cancel your tickets so that others have a chance to register. You will receive details in your confirmation email on how to cancel, or you can email office@isocmasjid.org

Maximum capacity of 100. No walk-ins - no exceptions.

Masks required to enter and must be worn at all times, including during prayer.

Prayer rugs required - each person should pray on their own marked spot even if from the same household.

If you do become infected with COVID-19 after attending either daily prayers or Jumu'ah, please inform the ISOC Office at office@isocmasjid.org to assist with informing other prayer attendees. Your identity will be kept confidential.

Make wudu at home prior to coming to the masjid.

Pray Sunnah at home. Arrive to the masjid 15 minutes before Iqama for daily prayers, 30 minutes prior for Jumu'ah prayer. Leave masjid immediately after prayer.

Prayer will be held on the lawn. Pray on the designated marked spaces.

No hugging, no kissing, no shaking hands, no physical contact. No socializing or congregating before or after prayer, outside or in the parking lot.
Current Masjid Al-Rahman Prayer Times
Fajr: 5:45AM
Zuhr: 1:15PM
Asr: 3:30PM
Maghrib: 5:45PM (Sunset +5 Mins)
Isha: 7:45PM
Jumu'ah: 12:30PM and 1:30PM
Note New Time for 1st Jumu'ah Prayer